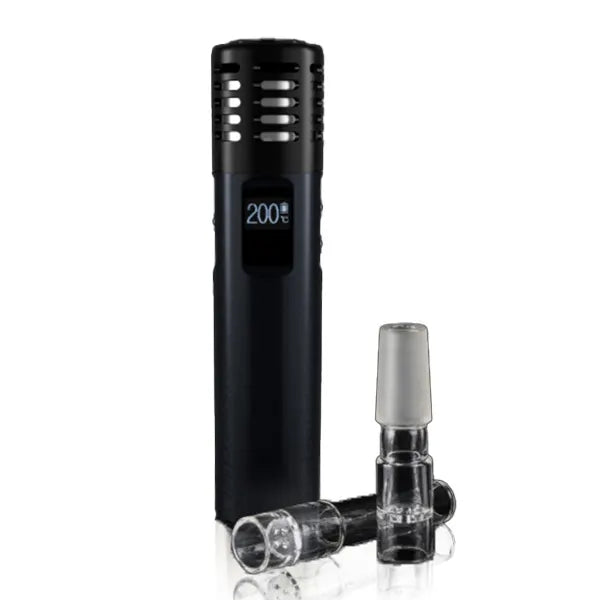 As with any device, we highly recommend charging it before your first use. Next, press and hold them and plus buttons to turn the device on. In classic Arizer fashion, the countdown initiates (the countdown initiates? Who am I?) and the Arizer smiley face pops on screen. Next, use the glass stem to scoop your herb into the chamber. Then place the stem into the top of the device and adjust your temperature using the plus and minus buttons on the side of the device. Wait for it to hit temperature, and you're good to go!
Press and hold the M button to turn the device off.
Using the classic Arizer system, the Air Max has full temperature control from 40C to 220C, which is an excellent spread that covers all flavor profiles and at 220, gets you a very good level of extraction.
Dark Mode – press and hold the m and minus buttons together to enter dark mode

Audio Beep – you can change the level of sound you receive

Temperature Alert – you can have a beep when the vaporizer reaches temperature

Automatic Shut off Timer – you can change the auto shut off between 5-15 minutes, the default is 10.

Celsius to Fahrenheit – pretty self explanatory

Brightness – pretty self explanatory

Power On Delay – you can change the countdown timer to 2,4,6 or 8 seconds.

Automatic Display Inversion – turn the unit upside down and the display inverts – perfect for water pipes.

The Arizer Air Max is everything you want in terms of battery life. Not only is there a fast changing USB-C input on the back of the device, but also there's this massive battery, it's 5750mah which will last you 2.25 hours of continuous use. It is a 26650 lithium-ion battery and it is… a little intimidating.