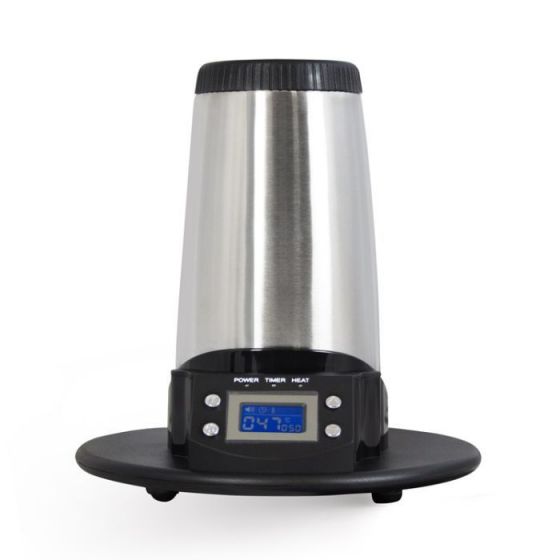 You are looking for a very simple and straightforward desktop vaporizer that has precise temperature control and a whip attachment. The Arizer V-Tower is simple to operate and uses glass on glass components to provide satisfying vapor.
The Arizer V-Tower uses a power ceramic heater to generate the hot air that is used to heat the glass and cook your herbs. With the glass stir tool that comes included with the V-Tower kit, you can get a more evenly vaped and fully extracted herb. The ceramic heater can reach temperatures up to 260 degrees Celsius giving you ample power to vaporize your dry herbs. We do not recommend operating it at its highest temperature as it could lead to combustion of your herbs.
The Arizer V-Tower features a digital display which allows for precise temperature control. The V-Tower can be set anywhere from 50° C – 260° C (122° F – 500° F) which provides users with a very large range in which they can vaporizer their dry herbs. For best results it is recommended to set the V-Tower between 180 - 220°C.
The Arizer V-Tower uses all glass components down from the Arizer cyclone bowl and its Extreme Q and V tower heater cover all the way to the Arizer glass elbow adapter to better preserve the outstanding flavor of your herbs. The glass components are super easy to clean with a simple soak in a cleaning solution.
What's In the Box:
1 x V-Tower Multi-Purpose Heater
1 x V-Tower Power Adapter
1 x V-Tower Glass Cyclone Bowl
1 x V-Tower Glass Aromatherapy Dish
1 x V-Tower 3′ Whip (Silicone)
1 x Spare V-Tower Flat Screen
1 x Spare V-Tower Dome Screen
1 x Sample Aromatic Botanicals
1 x V-Tower Owner's Manual