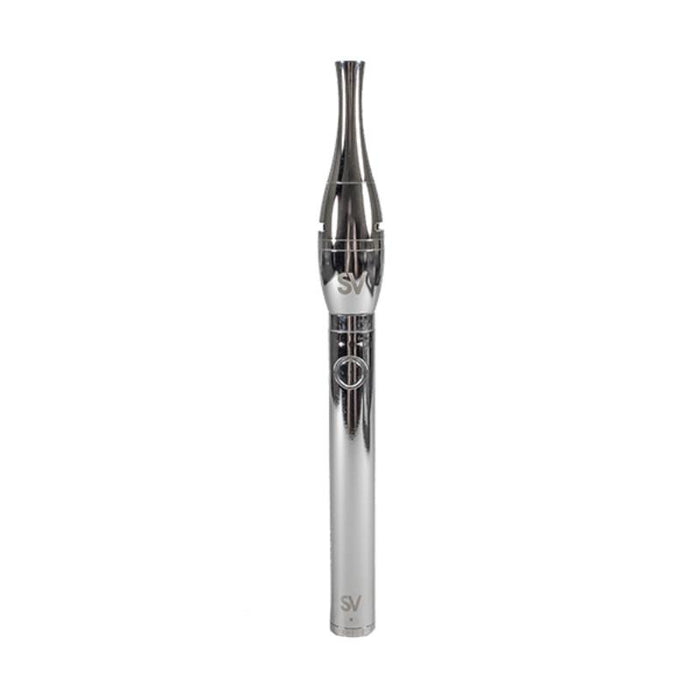 SOURCE ORB 4 VAPORIZER - PREMIUM KIT
The Source Orb 4 Vaporizer - Premium Kit is the latest version of one of Source Vapes' best-selling wax pen vaporizers. As always, Source is leading the way in wax vape pen innovation, and the newly released Source Orb 4 is without a doubt one of the most powerful, versatile and practical wax pens available today. Some updates you'll see on the Orb 4 include new advanced atomizers, magnetic locking technology, stainless steel 303 construction, a new variable airflow system (VAS), as well as 8 variable voltage/temperature settings. You can find the best temperature for your preferred vaping style and wax concentrates, then adjust the airflow for whatever size clouds you want. The Source Orb 4 Premium Kit is ideal for dab enthusiasts who want a variety of vapor profiles while still enjoying a portable vaping experience. With a menu of atomizers to choose from, and a suite of advanced features, Source Orb 4 - Premium Kit is the ultimate wax pen.
ADVANCED WAX ATOMIZERS
Source Orb 4 Premium is stocked with 6 advanced wax atomizers. Each Source atomizer is made of 100% real grade 1 titanium coils or grade 2 titanium buckets and food-grade, lab-tested ceramic and quartz. To boot, Source Orb 4 - Premium Kit comes with the following atomizers: Single Quartz Coil, Double Quartz Coil, Double Black Ceramic Rod, Double White Ceramic Rod, Coilless Quartz Atomizer, and a Titanium Atomizer with removable bucket. Each Source Orb Premium atomizer offers a different type of wax vaping experience. The coilless atomizers are for efficient vaping that doesn't waste a bit of wax. For flavor-chasers, the Source quartz atomizers extract the essential flavor notes and aromas from wax. And for bigger, bolder clouds, the titanium coilless atomizer is recommended. With so many atomizer choices, coupled with variable voltage and temperature, and adjustable airflow, the Source Orb 4 gives you mastery over your wax vaping sessions.
VARIABLE VOLTAGE, TEMPERATURE, AND AIRFLOW
To enable customized vape sessions, Source Orb 4 - Premium Kit features a variable voltage and temperature battery with 8 settings. A simple twist control on the bottom of the wax pen lets you easily toggle temperatures and voltages, with presets optimized for every type of waxy oil or vapor profile. Lower voltages create smaller, comfortable hits. For the pros, the higher voltages deliver big, milky hits. Adjustable airflow is found in the Source Orb 4 Premium's orb-like mouthpiece. Just twist the orb to adjust airflow, with ten air holes available in total. You augment your airflow depending on your vapor preference, and the type of waxy oils you're using, from thick to runny. Source Orb 4 Premium is by far the most customizable wax vaporizer on the market.
MAGNETIC MOUTHPIECE AND CHAMBER
Source Orb 4 Premium Kit features the trademark Orb chamber and mouthpiece with a magnetic connection. This beautifully designed chrome piece snaps open to reveal the chamber. Just pop in an atomizer and snap the mouthpiece back on. This advanced mouthpiece makes it easy to load the Source Orb 4 Premium Kit, and faster since you don't have to unscrew any threaded pieces. Source Orb 4 is one of the easiest to use wax pens out there, perfect for on-the-go vaping when you want to quickly and discreetly load your wax concentrates. The Source Orb 4 boasts a stainless steel 303 build that's sturdy and gives the unit a sleek, futuristic look. With adjustable airflow, a magnetic lock, and durable steel build, the Source Orb 4 Premium Kit is a truly masterful wax pen.
NEWEST VERSION: SOURCE ORB 4
USA Tested
510 Threaded
Lifetime Warranty
6 Advanced Atomizers
Variable Airflow System
USA Tested Titanium Coils
Magnetic Lock Technology
Stainless Steel 303 Construction
Variable Voltage/Temperature Battery
Compatible w/ Orb 3 and Source Nail Atomizers