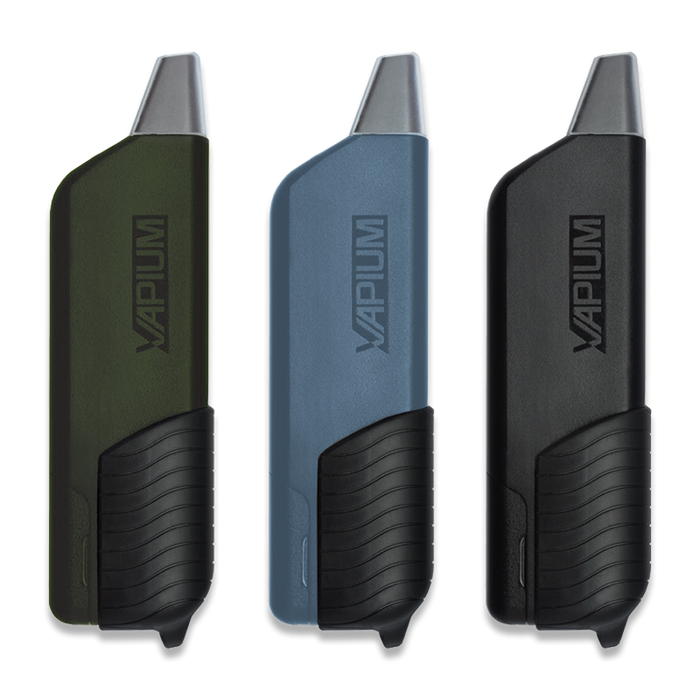 SUMMIT VAPORIZER BY VAPIUM
Summit by VAPIUM is a rugged portable vaporizer that is as powerful as it is easy to use. With innovative technology, high-quality construction and intuitive functionality crafted specifically for on-the-go use, Summit refines industry standards of both utility and style that performs wherever the trail may lead, and beyond.
Rugged
Ergonomic - texturized easy-grip design
Tethered, magnetic lid - no missing parts!
Easy maintenance - magnetic snap-together assembly
Durable, high-strength exterior
Reliable
Low draw resistance
Stainless steel vapor pathway
Tested in snow and extreme cold
Lithium-ion battery - up to 1 hour of continuous use at 410°F/210°C
Automatic shut off
Refined
Use while charging - micro USB rechargeable
Haptic feedback vibration indicates device readiness
8 temperature settings from 320°F to 450°F (160°C to 230°C)
LED battery indicator - displayed using 4 LEDs when Go Button pressed
HOW IT WORKS
Finely grind blends and load chamber about 3/4 full and lightly tamp material down. Press and hold the Go Button for 3 seconds to turn Summit on and select your temperature using the "+" or "-" button. The LED will turn green once selected temperature has been reached. For best results allow vapor to form in the chamber to produce bigger clouds. To preserve battery, Summit will automatically shutoff after 90 seconds - simply press the Go Button once to re-engage the heater.
WHAT'S IN THE BOX
Summit vaporizer by Vapium
Dry Bag
Cleaning Kit with Cleaning Brush, Elongated Cleaning Brushes, Cleaning Wipes, Stir/Pick Tool, Cleaning Wipes, and Extra Screens
User Manual
For Aromatic Blends
8 Temperature Presets
Bluetooth Enabled
Weather-Friendly USB Protection
Use While Charging
Vibration Notification