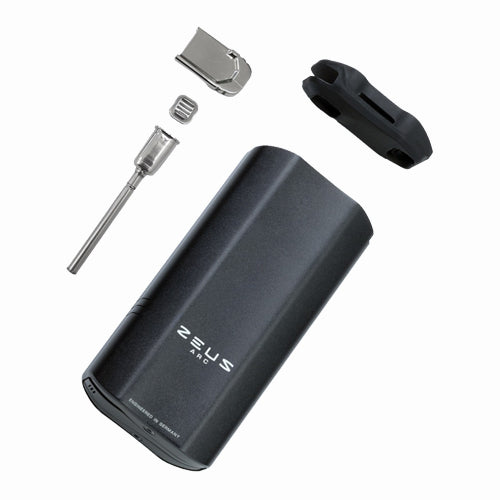 The ZEUS Arc is a sleek and compact design that can fit into hand. It comes with a unique heat sink with a separate air path and built-in tools to ensure an exceptional experience. Also, it comes with a USB charging cable, accelerometer, and firmware upgradeable. The haptic feedback feature alters the user about the device. Also, the Arc is easy to load and inhale because of the ground-breaking mouthpiece. With three temperature settings, the average heat up time is 80 seconds while the battery lasts for 90 minutes.
 ZEUS Arc features a stainless steel heating chamber and stainless steel vapor path. 
The heat-up time for the device is 80 seconds, and the vibration feature alters the user about the device functioning.
The battery with a capacity of 3500mAh lasts for 90 minutes.
The temperature settings could be selected among three different preset settings: 365°F, 401°F, and 437°F.
It comes with a motion sensor and built-in tools that make the vaping experience better!
The firmware update allows the user to customize the session.
What's In the box:
>   1 Charging Cable (USB)
>   5 Grime Wipes
>   5 Cleaning Bristles
>   1 Glass Screen (Spare)
>   1 Pipe Cleaning Tool
>   5 Cleaning Cotton BudsZeus Arc